Data For Downballot Progress
I'm a Downballot Guy now, so I decided whip up a spreadsheet of all the state House and state Senate candidates that DSA ran/supported nationally this cycle.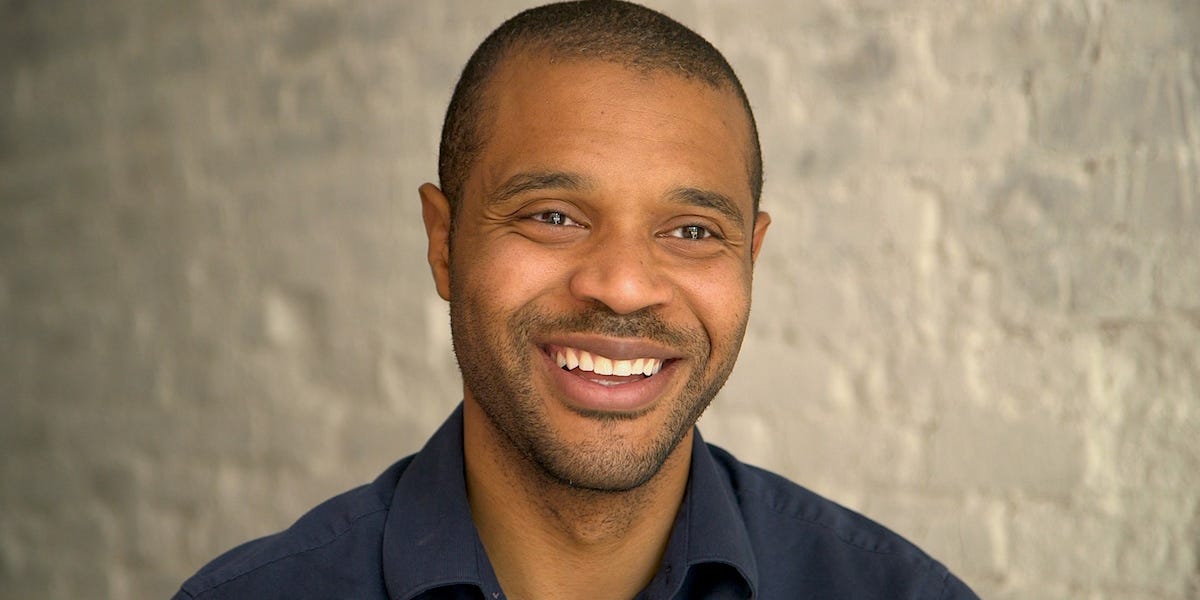 The 2020 primary cycle is slowing down. This is something of a bummer, because it means for about 2 years all we'll have to talk about will be the incredible victory and transformative governance of President Howie Hawkins.
It's important that we tide ourselves over though, so I decided to whip up an Excel sheet of all the wins and loses by the 2020 DSA nationally-endorsed state House and Senate candidates. After all, Howie can't change this country alone.
I officially became a Downballot Guy mid-way into this cycle, after a remarkable observation struck me: "The Left sure loses tons of Congressional races."
It's sort of obvious, but that didn't stop me from laying out the whole case out in my first Current Affairs piece. Basically we have no bench of socialist or even many left-liberal state House and state Senate electeds. This means when a congressional incumbent looks weak or a seat opens up entirely, the American Left broadly is often reduced to resource-intensive Hail Mary campaigns, backing total nobodys (we have seen oh-so-many failed "I'm gonna be the next AOC"-ass candidates this cycle) rather than the more desirable path: rallying behind a promising and ambitious downballot elected who comes equipped on day one of the race with deep community connections, an established voter base, a list of die-hards to fundraise off of, and retail political skills.
This will help us gradually lose less. Losing is embarrassing, and no one likes to do it.
Jumping up from their state House seats is how Rashida Tlaib and Ilhan Omar snuck into Congress initially, and it is how we will win everywhere 30 years from now. There's only a couple AOCs or Jamaal Bowmans every year, and picking them correctly is a tough one.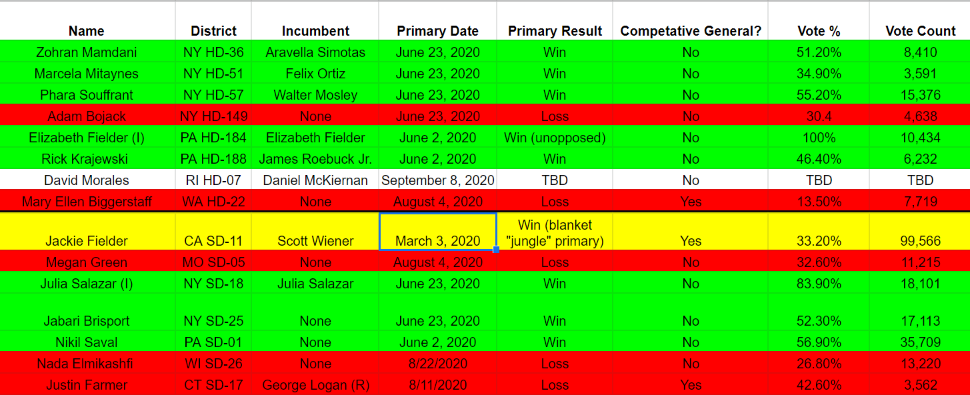 You can see that it tends to be a good investment for DSA to work towards downballot wins. DSA had solid success, winning four out of seven primaries of their nationally-endorsed state Senate candidates (one of those faces a real opponent in November) and winning five out of eight primaries for our state House candidates (possibly six; one primary has yet to occur). Quite a few beat incumbents.
To contrast with federal races, DSA endorsed seven non-incumbent congressional candidates; only two won, Jamaal Bowman and Cori Bush, and you can really only say the org put in much effort and early investment to elect Cori. In the case of Jamaal, DSA were ultimately bandwagon-hopping in the last couple of weeks. But, like I say, cast your eyes downballot if you want some DSA wins to brag about.
For many of these state legislature candidates, like Nikil Saval and the entire victorious NYC slate, DSA members contributed resources nationally and the local chapters were dedicated partners in the coalitions that got them elected. In the case of the 4 NYC wins in particular, NYC DSA was very much the leader of that coalition! DSA can personally claim the victory of state Senator Jabari Brisport this cycle in a way that is much, much more meaningful than when we all pretend to claim the initial victory of AOC.
I will add the caveat that mapping all of this out organization-wide can be dicey at best. This spreadsheet includes only candidates endorsed by DSA National; local chapters have endorsed all over the place, but the decision by a locally-endorsed DSA candidate to not pursue a national endorsement does not always correspond with how much was done locally by DSA to elect that candidate, or with how close that candidate is to DSA as an organization. Omar Fateh, an openly democratic socialist state Senate candidate in Minnesota, won with early backing and quite a bit of effort from his Twin Cities DSA local. However, he did not jump through the national-endorsement hoops and thus is not on this chart.
The inverse is true for our nationally-endorsed candidates. Nada Elmikashfi, a failed state Senate candidate in Wisconsin, was endorsed by DSA national fairly late in the election, and I don't get the idea that her local chapter or national did much to alter that race in her favor, despite receiving the lofty national endorsement.
That's still an L for DSA, obviously, but it speaks to how a national endorsement from DSA is mainly useful if you can built some internet excitement around it, especially early on.
If you're running for office, your local DSA chapter is who sends hundreds of people knocking doors and organizing phone banks for you right in your district. But a national endorsement, when hyped up correctly, can send hundreds and hundreds of little anonymous socialism gremlins across the country into a frenzy trying to elect you; throwing you $27 every payday, participating in and organizing out-of-district phone banks, creating social media excitement, and turning all of these things into national earned media.
If you're a state House candidate who wins if they get like, 7,000 votes, then that ends up being kind of an absurdly large national assist. Few other national orgs go all-in like that for these tiny but (ultimately essential) seats. In fact, I don't think any do!
Go team. See you in 2022.